Owl Poems by Robert W. Nero
In these days of multi-media, flash-dependent, streaming-video web sites; and blaring, over-stimulating content in traditional media; it's easy to forget where human communication began. Words are still important, poetry is still a simple delight. At least, I hope you will find the same delight as I have in reading the poems of famed Manitoba wildlife biologist, Robert W. Nero. They are presented here as they ought to be, as simple words on a quiet page. Enjoy.
Doug Collicutt, NatureNorth.com
---
---
About Dr. Nero
Naturalist, ornithologist, avocational archaeologist, poet, and a well-known scientist with nearly 500 publications and 9 books to his credit, Dr. Robert (Bob) W. Nero is perhaps best known for his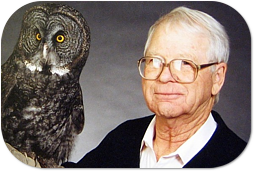 pioneering research on the Great Gray Owl. Born and raised in Wisconsin, Bob served a stint in the military during World War II, then earned his PhD researching Red-winged Blackbirds under John T. Emlen, while also studying under the likes of J. J. Hickey and Aldo Leopold. Employment eventually led Bob to Canada, where he has lived for over 50 years. He has worked for the Saskatchewan Museum of Natural History, the University of Saskatchewan at Regina, the Manitoba Museum of Man and Nature, and Manitoba Conservation. He still holds the title of Volunteer Senior Ecologist with Manitoba Conservation.
Return to The Great Gray Owl | NatureNorth Front Page
Background image courtesy Robert R. Taylor.