Credits
The SOS website was made possible by a grant from Manitoba's Sustainable Development Innovations Fund. Content and web programming for this site was prepared by Doug Collicutt, NatureNorth.com.

Advisors to the project include: Dr. James Duncan, Manitoba Conservation and Dr. Pamela Rutherford, Brandon University,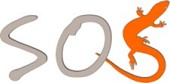 and other members of the Prairie Skink Recovery Team.
The original "SOS" logo was designed by Dustin Crawford, Graphic Artist, Manitoba Conservation.
The following contributed images for use in this website:
Errol Bredin

Jill Larkin

Pamela Rutherford

Doug Collicutt

Kurt Mazur

Neil Gushulak

Sherry Punak-Murphy
Patrick Coin

USFWS - US Fish
and Wildlife Service

Lea Maimone

USGS - US Geological Survey

Magnus Manske
The information presented in this website was drawn from these sources:
Bredin, Errol. Northern Prairie Skink. Article in NatureNorth.com.
Manitoba 2007-08 Habitat Stewardship Program Species and Landscape Priorities. Manitoba Conservation.
Prairie Skink Recovery Team. 2006. National Recovery Strategy for the Prairie Skink (Eumeces septentrionalis) (Proposed). In Species at Risk Act Recovery Strategy Series. 21pp.
COSEWIC 2004. COSEWIC assessment and update status report on the prairie skink Eumeces septentrionalis in Canada. Committee on the Status of Endangered Wildlife in Canada. Ottawa. vi + 22 pp. (www.sararegistry.gc.ca/status/status_e.cfm).
The Natural Heritage of Manitoba: Legacy of the Ice Age, 1984, James. T. Teller, Editor.
Geological Survey of Manitoba (Website)
Some Other Skink-related Links: