Manitoba Herps Atlas Blog
Keep up with what's going on in the Manitoba Herps Atlas right here! Check back regularly for updates.
December 14, 2018
Not much in the way of records coming in this fall and winter. I know folks get tired of record keeping, I do, too, but I hope the coming spring will re-inspire folks about herps. Just one more week until the days start getting longer again! Bye for now.
November 19, 2018
Just a quick note: with the updates I did today the MHA database now contains 8,404 records!
November 1, 2018
Ok, herps season is officially over now, except for those who enjoy ice fishing. That's still the number one way to find Mudpuppies! And I'd still love to get hold of a live one to get some good pics and video, so if someone does snag one, throw it in a pail and let me know. Any more data out there, any spreadsheets filled in? If you've got'em, send 'em in. Thanks, bye for now.
October 3, 2018
Yikes, winter is here early! Makes me want to crawl down a hole and go to sleep for 7 months. Well, I guess with the current weather forecast that all things herp are about over for this year. Hopefully those of you who've been filling out spreadsheets will send them in soon. Bye for now.
September 13, 2018
Well, the drought is over, the grass is green again and herps are getting in their last bits of feeding before hibernation. I was at the Narcisse Dens on Sept. 7 and there was lots of activity at Den 2, so I guess those snakes are already fully fed and looking to shut down for the winter. There were lots of dead snakes on the roads all the way up to the dens from Teulon northward, which is sad in one regard, but good in others; it means there's lots of snakes around! Warm sunny days in the fall are still good for seeing basking snakes and turtles. I can't help noticing that incoming records are few and far between these days; I know interest is waning in the project, but I will keep posting what comes in. Bye for now.
August 1, 2018
Our hot, dry summer continues; not a great year for terrestrial amphibians. My frog ponds in Winnipeg have produced no froglets or toadlets! A lot of the ponds didn't even have any breeding attempts. It's been nice to have no mosquitoes in town, but I like my little froggies, too. Hopefully next year will start off a little wetter. Not many records coming in these days. I know more folks are using the Province's iNat app and that's fine by me. Bye for now.
July 9, 2018
Must be summer time, I'm forgetting all about updating the MHA blog. Not much going on right now other than basking turtles. On the hot days snakes don't even need to bask. It is the time of year to be listening for Mink and Green Frogs though. And if anyone happens to be up in Green Frog country, Nopiming Park and thereabouts, I hope you'll keep an eye out for them as well as any odd looking salamanders! I still think that Eastern Newts and Red-backed Salamanders might be up there. Bye for now.
June 6, 2018
It's turtles on the road season! Driving along Hwy 44 a couple of days ago I had to dodge 3 Painted Turtles crossing the road. Painteds and Snappers are on the move looking for nesting sites and summer feeding grounds so I hope Manitoba drivers will be considerate over the next few weeks. Recent rains have helped spark more breeding activity for Treefrogs and late breeding Toads. I imagine the snakes have pretty much cleared out of the Narcisse dens by now. June is a great time to see snakes basking along trails and roadways when mornings are cool. Hope they watch for traffic, too. Bye for now.
May 19, 2018
Well, the drought has broken for parts of southeastern Manitoba, at least. I was in the Whiteshell last week and we got about an inch of rain last Friday. It was scary dry out there before that, there had been several small fires in the region. Spring Peepers and American Toads were calling, but didn't hear any Treefrogs yet. The early frogs, Wood, Leopard and Chorus, seem to be about done by now. Would have been a bad breeding season for those species with the early drought conditions. The snakes at Narcisse are late this year, this long weekend may be the prime viewing period. If they got some rain up there that might help get the snakes out. Former regional biologist, Dave Roberts, said that a good rainfall helped bring the snakes out, as it helps drawn down some moisture and heat into the dens. By for now.
May 10, 2018
Just a quick note to brag about NatureNorth's videos again. "From Egg to Frog in 7 Weeks" just passed the 2 million views mark! In total now the NatureNorth videos, mostly herp stuff, have had nearly 4.8 million views. It's great to think people are that interested in Manitoba's herps! Watch more for yourself at: NatureNorth's YouTube Channel
May 1, 2018
Well, spring is here and herp reports are starting to come in. The snakes are starting to come out at Narcisse and the early frogs, Wood, Leopard and Chorus are calling. We could sure use some rain though. It's been a dry winter and many of the usual vernal ponds are just dry ground so far. Without some extra precipitation (I'd even take snow!) a lot of amphibians won't get a chance to breed this year. Bye for now.
April 23, 2018
Hurray! Spring is finally here and the first herp records of the year are in! Ken Schmidt reported a Plains Garter Snake and Boreal Chorus Frogs, April 19, from the west side of Lake Manitoba. I hope there'll be lots more records coming in soon. Bye for now.
April 1, 2018
I wish the current weather was an April Fool's joke, but, no, Mother Nature and Old Man Winter are still gettin' it on. There won't be any critter action for a while yet. So I will go back to working on my iguana video and try hard to remember how warm it was in Puerto Vallarta. Oh well, maybe in a couple of weeks spring will be back. Bye for now.
March 22, 2018
Well, winter is almost over now, the frogs will start croaking in just a few weeks. Spring in Manitoba is wonderful, all the more so when it comes at the end of a long, hard winter. I took a break from winter and spent the first two weeks of March down in Puerto Vallarta. The resort I was at has an "Iguana Tree" where they feed a veritable "herd" of Green Iguanas daily with leftover fruits and vegetables. I took some video and am going to post a "Lunch with the Iguanas" video on the NatureNorth YouTube account. Get ready for spring herping! Bye for now.
February 1, 2018
Man, that's been a nasty few weeks! Almost makes me wish I was a frozen Wood Frog, sleeping away winter under a mossy log. Oh well, only two more months of winter left. Think about it, in as little as 60 days the first frogs of spring might be croaking! So that's something to look forward to. Nothing much else to report herp-wise, no records of ice-fishing-caught-Mudpuppies this year. Bye for now.
January 1, 2018
A Happy New Year to All! Well, here we are in a new year and in the middle of a deep freeze! But I had an interesting reminder of what goes on in nature a couple of weeks ago. Herper, Luke Roffey, sent me a pic of a Leopard Frog he had just caught . . . in the middle of December! While dip-netting minnows in the Lasalle River he spotted this frog swimming under the ice and scooped it up, photographed it then let it go.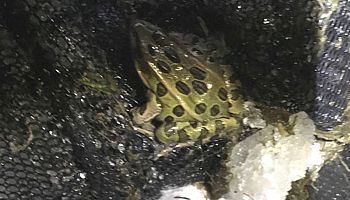 It made me realize how little we know of the life of such creatures under the ice. Leopard Frogs spend about 6 months in ponds and lakes under the ice - half their lives! I imagine it would be very difficult to study this segment of a Leopard Frog's life, but it would be fascinating.
Oh well, the days are getting longer and spring will be here before you know it, I hope. I'm already looking forward to the spring melt and the re-emergence of all my favourite critters. Bye for now.
November 27, 2017
Not much to report herp-wise these days. I've finished uploading data that's been submitted by spreadsheet (unless there's more coming??) for 2017. Our grand total currently stands at 7,734 records! I hope all the ice-fishers out there will keep their eyes peeled for Mudpuppies; by-catch of Mudpuppies seems to be about the only way we ever get any records of that species. Bye for now.
November 10, 2017
I posted another snake video this week. "Just Snakes" is a compendium of some of my best close-up snake video from spring emergences at various sites. It's always interesting to see how word spreads about new videos. My "Egg to Frog in 7 Weeks" video is now over 1.7 million views and doing about 3,000 views a day. The "Egg to Salamander" video, posted earlier this year, is starting to go viral and is doing about 13,000 views a day right now. I can never predict how well any one video will do, but it's always nice to see that people are really interested in watching videos of Manitoba's herps! NatureNorth's YouTube Channel is:
www.youtube.com/user/NatureNorth/
November 1, 2017
Well, that's about it for herp sightings for 2017, unless you're an ice-fisher! That's still the most common way to get Mudpuppy records in Manitoba. Otherwise, all our other herps are "put away" for the winter. I hope those of you with outstanding records will send them in soon. We're over the 7,000 mark now, keep them coming!
October 7, 2017
A sad news report to pass along: Slaughtered Snakes. What's most disconcerting is the lack of worthwhile response from Sustainable Development.
October 1, 2017
Well, summer's definitely over now and most herps will be getting ready to shut down for the winter. On warm, sunny days there will still be the chance to spot a snake or two basking on a roadway, or at the Narcisse Snake Dens, but not for long.
With the herp viewing season about over, I hope those of you that are filling up your record spreadsheets will send them along shortly. Bye for now.
Sept. 20, 2017
Earlier this summer I decided to stop sending out periodic emails to folks that had signed up for the MHA contact list. After 6 years, interest in the project is waning (which is only natural) and I wanted to spend more time on other efforts. But in place of regular emails I've started up this blog, where folks can check in to see what's going on with the project and get updates about critter activity. Essentially I'll still be putting out the same information as I did with the emails, I just won't be clogging up people's in-boxes, and the onus will be on individuals to check in and get any updates for themselves.
The MHA on NatureNorth.com is NOT going away, it will remain active, just at a lower profile. I'd also encourage people to make use of the province's iNaturalist projects: Go Wild Manitoba which also includes a version of the MHA that you can use from your smart-phone.
At the recent conference of the Canadian Herpetological Society in Brandon, Manitoba (Sept. 15 - 18, 2017) I was honoured to receive the Silver Salamander Award for my work on the MHA. Although I was unable to attend, my friend, Dr. James Duncan, was there to accept the ward on my behalf, and on behalf of all the folks that have participated in the MHA! I put the website together, but the involvement of all of you made it a success!
Critter-wise for this time of year, things are cooling down, literally, at the Narcisse Snake Dens. It wont be long before all the snakes will be back under ground. Warm, sunny days over the next couple of weeks may offer the last opportunities for some snake viewing. Herps in general will be slowing down and looking for overwintering sites now, but warm days will still offer decent critter viewing. Bye for now.
---
You can help support the continuing operations of this citizen-science project. Every contribution makes a difference!
---