Manitoba's Marvelous Monarchs!
By Doug Collicutt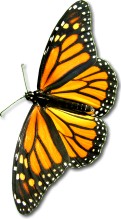 Monarch butterflies have always been a part of my life. The first of these migratory butterflies to arrive back in Manitoba in June herald the real start of summer for me. As kids, my brother and I would traipse the fields along Omand's Creek in Winnipeg, butterfly nets in hand, with jars in our pockets to hold our quarry. In June the first adult monarchs would arrive and a couple of weeks thereafter we'd check out all the milkweed patches for caterpillars. Collecting and raising caterpillars, watching their miraculous transformation to adult butterflies, and releasing the fresh monarchs back to the skies was just something we did, naturally. I wasn't aware of how big a deal it was until my own children got into the school system. As they mixed with other kids and teachers, I began to see that the experiences that I had enjoyed as a kid, with butterflies and other critters (and was passing on to my kids) were something of a novelty to others. And that disturbed me. It bothered me enough to get me involved with my kids' teachers and with their school as a whole, and it bothered me enough to set the wheels in motion that have lead to what you're visiting now, NatureNorth.com. The critters and activities that I have taken for granted all my life weren't part of the education "system". At NatureNorth.com, we'd like to help change that.
Check out these projects:


---
---

Monarch Updates, 2016
August 30: Wow, haven't seen a single monarch all year, depressing.
August 14: I've still yet to see a monarch this year! But I have heard from people that have seen some, so all is not lost.
July 26: I've yet to even see a monarch this year and my milkweed plants remain untouched - very discouraging. Journey North is reporting some sightings from Manitoba though.
June 5: No sign of monarchs yet. Still waiting for the big south winds!
June 24: Haven't seen one myself, but there are a number of reports on the Journey North website of monarchs in southern Manitoba, as far north as Arborg.
---
You can report Monarch Sightings directly at: Journey North.
---
Monarch Updates, 2015
Saw my first Monarch on the evening of June 6 at about 8:00 pm. It was healthy looking, not tattered or faded. I'll start checking my milkweed plants tomorrow for eggs!
September 7: Saw a fresh looking monarch in my yard in Winnipeg. I think I've only seen about 4 or 5 monarchs all year and have had no caterpillars on my milkweed plants. Not a good monarch year.
---
Monarch Updates, 2014
July 21: Finally! Just had my first Monarch in the yard. She flopped around for a while laying eggs on several of my milkweed plants. This is really late for a female to show up and "egg" my yard, and she was the first Monarch I've seen all year, too. Still, it's better than last year, when I saw none in the yard.
June 16: A few more sightings have been posted on Journey North, but I've yet to see a monarch or any eggs on my milkweeds.
May 30: A Monarch was spotted near Cartwright, Mb on May 29. So, they're on their way! Lots of bad news in the media about declining Monarch numbers in Mexico. We'll have to see what happens this year.
---
Monarch Updates, 2013
August 2013 Update: Yikes, I personally have yet to lay eyes on a Monarch this year. I've heard from folks who have seen a few and even had some caterpillars on their milkweeds, but it's just not a good Monarch year.
July 2013 Update: Well, I haven't even seen one Monarch yet this year. I've heard of a few being around in southern Manitoba, but it's clearly not a good year for Monarchs. However, the "sky is not falling", despite media reports about the dire state of the species. It was a cold, wet spring down south and this delayed the Monarchs northern progress. Southern Manitoba and southern Canada in general is the northern limit for this species, some years they get here in huge numbers, some years we get a few, some years almost none. It's just normal variation.
June 2013 Update: The first report of a Monarch in Manitoba for 2013 is listed on the Journey North website, for June 1. It's been a cool spring down south, so it may be a while before many more show up, or it may be a bad Monarch year. Only time will tell.
June 24, 2013 Update. So far, there have been very few Monarchs sighted in southern Manitoba. Only two have been reported to Journey North. (My yard is full of milkweeds, but there's no eggs yet and I haven't seen a Monarch yet around Winnipeg. Doug C.)
---
2012 Monarchs arrived, but fizzled!
October 2012 Update: Well, we didn't get the big explosion of Monarchs this year after all. There were decent numbers around in late summer, but nothing like what was expected after the big spring invasion. I counted more than 50 eggs in my own garden in June, but never saw any large caterpillars or newly hatched adults in my yard, strange. Just goes to show that nature is unpredictable.
June 2012 Update: Monarchs galore! Huge numbers of Monarchs have returned to southern Manitoba. Newly hatched caterpillars are munching through milkweeds. Late July and early August could see an explosion of Manitoba-born Monarchs! Remember to report your sightings!
Journey North is a great website for keeping track on migrating monarchs and other cool critters!
And now there's eButterfly, a great new citizen-science program for reporting butterflies in North America.
2011 Monarchs!
September 1, 2011. Well, another monarch season is just about over. By most accounts it was not a great year for monarchs in Manitoba, but a lot of fluctuation in numbers from year to year is normal. Remember to keep watch for returning monarchs next spring!
2010 Late Monarchs!
I found a freshly emerged monarch in my yard on Oct.7, 2010! Then on Oct. 31, while he was putting out Halloween decorations, my son found a monarch chrysalis in our garden. Thinking it was dead I placed it on my desk and forgot about it. Out popped a monarch on Nov. 2! On Oct. 29 the overnight temperature in Winnipeg was -5C! I've never seen monarchs this late in the year before. Sadly, neither had a chance to make it south to Mexico, it's just too late and too cold. My November monarch wouldn't even have hatched out if we hadn't brought it inside the house. But it's interesting that these two mis-timed monarchs even survived that long.
Anybody out there had any similar experiences? Let us know: Email NatureNorth.
---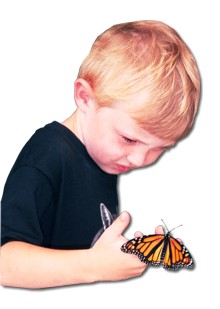 What's so important about a kid witnessing a big black, white and yellow-striped caterpillar transform to a jade-green chrysalis, then wait patiently to see the big black and orange butterfly pop out and fly off? It just involves the future of the planet, that's all! Far too many people are removed from the many miracles of life that abound in our own back yards. Just as so many have come to see food as something that comes in a cardboard box or in plastic wrap, and have lost contact with what sustains them, so too have they lost sight of the how the world works and how our actions upon it affect other living things. The wonder and appreciation that only direct contact with another living thing can instill in a child has lasting effects. Caring, for other creatures and their - and our - environment will not develop properly without such exposure. We owe it to the future stewards of our planet to take the time and effort to make sure they don't miss out on all the small miracles that surround them.
Carry on for More about Monarchs!

---

Attention all butterfly lovers!
Check out this new citizen science project: eButterfly. Now you can enter your sightings of butterflies and help build a great new database of North American butterflies!
---