---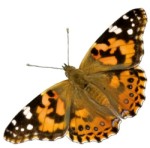 Butterflies of Manitoba - Comes to you!
The Butterflies of Manitoba is also available as a 10-panel desktop display (English and French versions) and as a digital display (Microsoft Power Point, both languages). Our experienced interpreters can present this program to all age levels. Additional supporting materials include: insect costumes, preserved butterfly specimens and butterfly gardening brochures.
To book programs or for display rental information contact:
Living Prairie Museum
2795 Ness Avenue
Winnipeg, Manitoba, R3J3S4
(204) 832-0167
Visit the Living Prairie Museum's web site.
---

Credits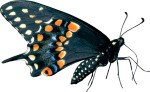 A project of Winnipeg's Living Prairie Museum and Nature North, funded in part by Manitoba's Heritage Grants Program and the Sustainable Development Innovations Fund. Design, layout, content and HTML programming by Doug Collicutt. The following provided photographs used in this project: Doug Collicutt, Peter Taylor, Will Cook,Tom Allen, Insectimages.org, Monarch Lab, Ecological Monitoring and Assessment Network. Copyright © - The Living Prairie Museum 2003 - 2016.