Spring Snake Viewing Season 2019
The 2019 spring snake viewing season will begin soon. See the updates on the right.
Remember, for best snake viewing, weather matters! Check the weather for the Interlake region at this link: Weather for Gimli, Manitoba.
Snake Den Map and FAQ's - for a map to the den site and answers to some commonly asked questions about visiting the dens Click Here.
Media Info Package - Media outlets wishing to operate in the Narcisse Snake Dens should download the following: Narcisse Snake Dens Media Information.docx (1.2 Mb, Provided by Manitoba Conservation.)
Thinking of a trip to see the world famous red-sided garter snakes of Narcisse? It's about a one hour drive north from Winnipeg to the Narcisse Snake Dens. Sunny days are always best for snake viewing. There's a large gravel parking lot and the trails throughout the site are well-packed crushed limestone.
Washrooms are available, but primitive (outhouses / privies). Bring your own food and drink, or you can stop in one of the towns along the way to eat. Water from the pumps on site is not potable, but suitable for washing or cooling off tired feet. Bring sunscreen as there isn't much shade along the trails. Take our Virtual Tour (below) to see conditions and facilities at the site, to help you prepare for your visit.
---
Are you REALLY into Reptiles and Amphibians? - Then have we got a project for you! Check out the Manitoba Herps Atlas.
---
There are restaurants in Teulon and Inwood, and general stores and gas stations in Teulon, Inwood, Narcisse and Poplarfield.
Manitoba Conservation has done a great job of making this site wheel chair accessible! (See the Virtual Tour below.)
Fall Viewing
The snakes return to the denning area from their summer feeding grounds in late August and September. If you can't get out in the spring, try making the trip in autumn. Snake numbers can be quite impressive on warm sunny days until the end of September.
If you rely on us for information about the Snake Dens please consider a donation to help keep this site on-line. Thanks!
Update: April 25, 2019
Spring has arrived and the weather is warming up. However, it is still cold underground and the snakes have not started to emerge yet. We expect to start seeing them over the next week if the warm weather continues. Warm, sunny days are best for viewing snakes when they emerge from the dens.
Please note that Den 2 is closed to the public at this time.
Previous 2018 updates can be viewed here.
To see how things unfolded in previous years follow this link: Previous Years at the Dens.
If you're after more snake den info (please check the FAQ's first) or want to share your experiences with Manitoba's garter snakes, drop us a line at: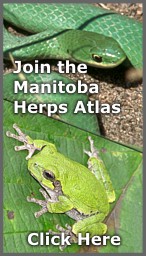 For Google Earth users, here's a KML file of the locations of the Narcisse Snake Dens. (Right click and "Save as". )
You can get more info directly from Manitoba Conservation at their website: The Snakes of Narcisse.
(Thanks to Pauline Bloom, Manitoba Sustainable Development for the update information.)
---
Help Support NatureNorth - This page has been viewed more than 150,000 times! We're helping lots of people in Manitoba, across North America, and around the world learn about our garter snakes; and plan trips to see them! You can help keep NatureNorth on-line: Click here to make a donation.
Want your ad to be seen 20,000 times in 2018?
Contact us at: Email NatureNorth.com.
---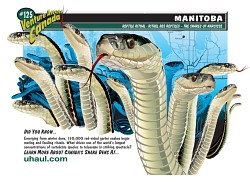 For some great information on Manitoba's red-sided garter snakes and the Narcisse Snake Dens check out the U-Haul Super Graphics website.
Click the "Learn More" button at the U-Haul site.
And check out this National Geographic article: Amazing Video: Inside the World's Largest Gathering of Snakes
---
Take a Virtual Tour of the Snake Dens
If you can't make it to the Snake Dens or want to get ready for what you'll find when you do go, then take our Virtual Snake Den Tour. Just click the map to the right.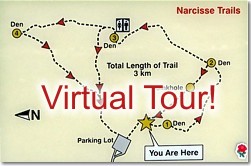 ---
Before you head out, check the weather
for the Interlake region at this link:
Weather for Gimli, Manitoba.
Gimli is about 30 km east of the Narcisse Snake Dens.
---
---
Snake Den Videos
See what you're missing if you don't visit the Narcisse Snake Dens! We've added more snake videos. Watch our videos on our new dedicated Snake Videos Page.