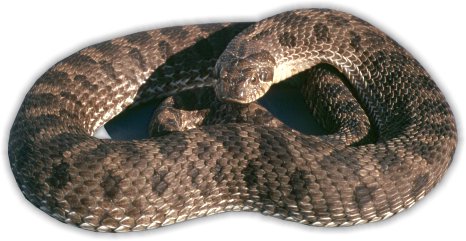 Over the next several years, I will be conducting a study on the Plains Hognose Snake (Heterodon nasicus) in Manitoba. Information will be collected on snake sightings, distribution, populations and reproductive biology involving this rarely seen snake.
Any persons with information on this species are asked to contact me for a short interview. Information regarding sightings are extremely important to this study, as Plains Hognose snakes are secretive, and sightings are important to map the distribution int the province.
All information collected will be summarized and published at the conclusion of my study in various herpetological journals.
Please contact me anytime snakes are seen, I will arrange to travel to the location as soon as possible. Thank-you for your participation in this study.
Neil Gushulak, B.Sc., Email: crotalus@wcgwave.ca
Ph: 204-573-6065
1-407 18th Street
Brandon, MB
R7A 5A9

---

Update: Neil is still at it, tracking down hognose snakes and other herps. He tells NatureNorth that tips he has received from people who've visited this website have lead to some new records for Manitoba! Keep up the good work, Neil.

---
For more on the Plains Hognose Snake and some of Neil's preliminary results, read on.
---
By Neil Gushulak

The Plains Hognose Snake (Heterodon nasicus nasicus) is a unique creature of Manitoba's mixed grass prairie, mixed savannah and mixed forest communities, and of the five species of snakes found in the province, perhaps the most interesting in regards to behavior and biology. Secretive by nature, Plains Hognose Snakes are not often encountered, even in suitable habitat. Although these snakes are generally difficult to observe and study, a great deal of information can be generated by a few specimens in a given area. Although considered uncommon in Canada and many areas of the northern Great Plains, current research is suggesting that these snakes are not as rare as once thought. Recent field studies are beginning to shed new light on the habits and natural history of these elusive serpents.
(Click thumbnail images to see larger versions.)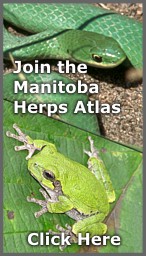 My study of Plains Hognose Snakes was initiated after capturing a large female in the Bald Head Hills, in Spruce Woods Provincial Park, in early May of 2001. This single specimen had me wondering about the status of this snake in our province. Although its existence in Manitoba was not recorded in literature until 1919, it was described by one of the regions first naturalists, Percy Criddle, as early as 1884. Since 1919, suprisingly little specific information has been recorded, with the exception of several detailed studies, most notably those of Errol Bredin in 1981 and Kelly Leavesley in 1987. The more I contemplated my study of this species, the more I realized that a detailed, Manitoba wide study was needed to fill in some basic information. Therefore my study of Plains Hognose Snakes will focus on current distribution, natural history and reproductive data.
Distribution of the Plains Hognose Snake in Manitoba consists of a disjunct population at the northeast apex of their natural range, isolated from the continuous range just to the south in North Dakota and Minnesota and to the west in Saskatchewan and Alberta. Their Manitoba population is centered on Spruce Woods Provincial Park and CFB Shilo, where prime protected habitat exists. There are also specimens from Oak Lake, Souris and near Lauder in the western part of the province on record. The Manitoba population may be geographically separate, or a lack of adequate research may reveal it does continue uninterrupted into the northern Great Plains of the United States and into Saskatchewan. By analyzing specimens from North Dakota, Minnesota, Saskatchewan and Alberta and conducting field research in areas of Manitoba where this species has not been recorded will help understand why their range is separated. If the snakes in the Manitoba range are in fact disjunct, our populations should be further researched to determine why their range in Manitoba is not continuous, or restricted to areas of suitable habitat, separated by area's of unsuitable habitat.

Secretive by nature, Plains Hognose Snakes are not often encountered, as the majority of their lives are spent concealed or under the surface. They are generally surface-active for only a few hours a day, usually in the morning. Their natural range is often fragmented and confined to suitable habitat along the periphery of their continuous range, which makes this species more difficult to study, as each population may be widely distributed and different from neighboring populations. Unlike our ubiquitous garter snakes (Thamnophis sp.) which may be encountered in a wide variety of habitats, Plains Hognose Snakes are often restricted to pockets of sandy habitat. Where they do occur, Plains Hognose Snakes appear to have stable populations in the areas I have found them. Observation and field captures will help provide valuable distribution data as well as possible regional differences in colour, pattern, scale counts and morphology.

Reproduction information from not only Manitoba specimens, but also from other Canadian localities is very limited. One of my goals is to establish their reproductive habits within Manitoba. Several snakes captured during the 2001 field season have yielded some important data on reproduction. Hopefully with subsequent success in the coming years, more data will show some of the interesting details of reproduction and possible geographic differences. Reproductive information regarding breeding season, egg laying dates, egg incubation, clutch size and measurements are important to long term conservation of this snake. Several specimens from my 2001 field season have contributed new data to what is already known and will be presented in the future. After several more years, data will begin to show important trends and will be presented formally.

Natural history such as population, feeding habits, prey items, predation and life history data are important to understand how these snakes survive the harsh environmental conditions our province offers. Human factors also affect this species and I hope to gain an understanding on how this snake deals with intrusions brought on by habitat destruction for human activity.
Initial research for my study consisted of studying all available literature on this species, concentrating on field data from other Canadian localities as well as nearby US localities. In most cases the authors were interviewed to provide direction on what needs to be accomplished with this and future studies. Informative pamphlets regarding my study were distributed to local residents and businesses and many people provided valuable information regarding the presence of Plains Hognose Snakes in their regions. A preliminary search for preserved specimens was completed and all preserved Manitoba specimens will be researched as well as other specimens from localities near our borders.

Fieldwork during 2001 consisted primarily of searching for suitable habitat in which to locate Plains Hognose Snakes. Museum records, captures, observations as well as other clues such as shed skins and personal communication with knowledgeable individuals assisted in locating many suitable areas across the southwestern part of our province. Fieldwork consisted of searching areas on foot and by car. Snakes in the field were observed to determine their behavior both before and after my presence was detected. Snakes were subsequently captured by hand for more detailed study. Measurements and data such as length, weight, mass, sex, stomach contents and other information was meticulously recorded. Scale count data, pattern and color characteristics and specific locality data were recorded and catalogued with each specimen. Snakes were individually marked by non-invasive subcaudal/ventral scale clipping. All specimens were photographed on slide film to assist in identification and to provide a permanent record.
In some cases upwards of a hundred slides are in my archives for each particular specimen. In total, nine collected specimens were analyzed during my limited fieldwork, although data for an additional eight Manitoba specimens was acquired and catalogued during my first year of study.
Embarking on such a study has been a rewarding experience. Early success has fueled my fire and determination to learn more about this snake. Many parts of the life of Plains Hognose Snakes are a mystery, but I believe that there is a great opportunity to learn more about this snake in Manitoba. It is our responsibility to ensure the Plains Hognose Snake remains a distinct and unique part of our provinces fauna, for all others to enjoy in the future.
Contact Neil Gushulak, B.Sc., Email: crotalus@wcgwave.ca
Thanks for learning about Neil's Hognose Snake study! Bye for now.
---
Neil Gushulak is an independent biologist with a passion for snakes. He is performing important work, unearthing facts about the basic biology of this threatened Manitoba species. Nature North encourages all Manitobans to take a more active role in conserving our natural heritage and we applaud Neil for his efforts.

When you support Nature North with a donation, you help Neil and others present their work to you.
---
There's lots more snake-related stuff in NatureNorth:
Snake Den Log | Manitoba Herps Atlas | Garter Snakes in the Classroom
---

You can help NatureNorth produce more great articles with a secure donation through PayPal. Our Google Adsense ads pay our server costs, but that's about it. To learn more follow this link: Support NatureNorth. Thank-you!

---
Return to: Winter Issue | NatureNorth Front page